Next Thursday 31 May and Friday June 1 you will discover with the Mediterranean school Barcelona:
Important buildings of Barcelona inside: The cathedral, official buildings, palaces…
Secret sources with floral decorations.
Eggs dancing in the fountains.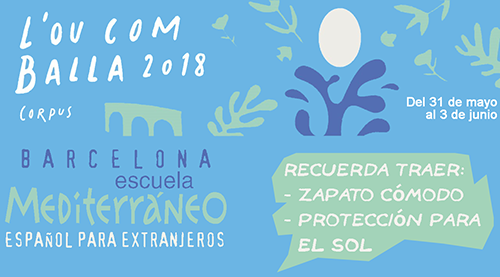 Corpus, a festival with more than 600 years of history, is arriving
'L'ou com balla' is one of Barcelona's most unusual traditions and has marked the Corpus Christi celebrations since 1637. It is a custom that consists of making eggs dance on top of the spouts of water issuing from the fountains in the cloisters, patios and gardens, which are adorned for the occasion with floral arrangements and cherries.
The tradition, as unsophisticated as it is mysterious, arouses passions among scholars, who still argue about its origins and meaning. For some it is a metaphor of the cycle of life and a reference to time and unceasing movement. Others see in it a simple entertainment typical of the Middle Ages.
Regardless of the discussion about its origins, what is for sure is that the tradition has its roots in Catalonia, the only place in the whole world where eggs are made to dance.